Tiger Knight
HD pictures of ancient armors in Tiger Knight
2016-03-25 12:25:23
In China's online game market, lots of ancient war games compete to obtain market share. The project team of Tiger Knight tries to create the most authentic online game about ancient war by consulting historical data and reappearing details of cold weapon war.
The development and evolution of China's ancient armor witnessed a long and tortuous process. As a product of war, the development of armor was influenced by military, politics, economy, culture, etc. We can know more about China's culture and civilization from the development of ancient armor.
For instance, the unearthed terra-cotta warriors of the Han Dynasty revealed mystery of ancient armors, including tong xiu, liang-tang and mirror armor.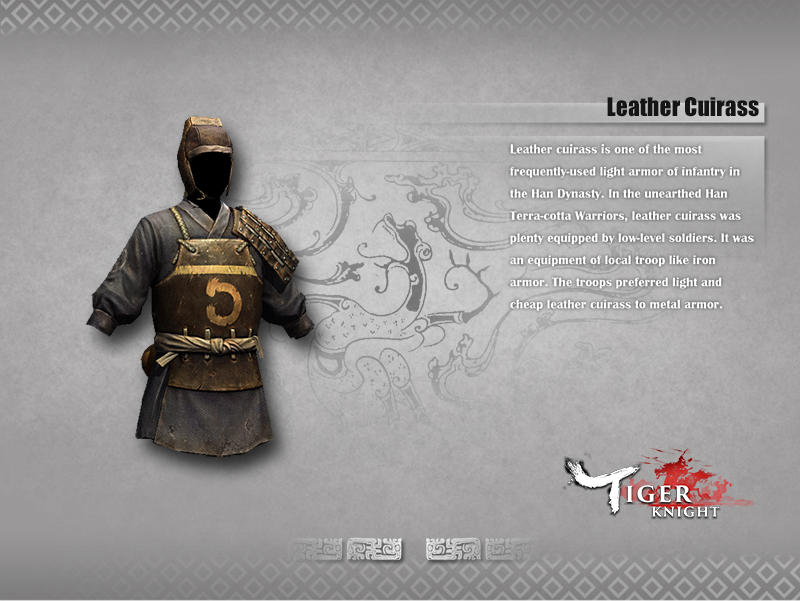 Leather Cuirass in Tiger Knight
Tong Xiu in Tiger Knight
Liang-tang in Tiger Knight
Mirror Armor in Tiger Knight
In Tiger Knight, the R&D team reappeared ancient armors of both soldiers and generals elaborately and aims to show the details like square armor and lamellar armor vividly.
In addition, you can witness more magnificent scene of cold weapon war in Tiger Knight. Are you ready?